16m Concrete Road Paver Machine
Shandong Storike Engineering Machinery Co.,Ltd. is specialized in the sales and production of Road roller Plate Compactor,Tamping Rammer,Tower,Concrete Truss screed machine,Power Trowel,Crack Sealing Machine,Concrete Scarifier ,Cutter,Slotting Machine and Hydraulic Power Unit And Tools other construction machine. Our products are widely used in municipal and highway pavement road roller maintenance, small area compacting and depressed trough and so on. Our equipment is favored by many construction companies and have a large market in China. More and more trading companies purchase equipment from our plants, so we decide to enter world market with more favorable price to shape our product brand and provide the best after-sale service. If you are interested in our machine, contact us!
FEATURES:
Concrete vibratory truss screed is mostly used to pave vibrating impact the concrete surface,bridge concrete surface,large packing slurry and other large of factory soncrete surface,This is desighed with exact paving system,suitable and perfect for large concrete surfaces,the max depth of impaction can be up to 20 centimeters
1) Lightweight, high strength aluminum truss screed
2) Fast connect system for assembly without special tools
3) One side winches for one person operation
Model

SCL-55(≤8500mm)

SCL-55(≤5500mm)

SCL-55(≤9000mm)

Nominal amplitude

0.6mm

0.6mm

0.6mm

Vibration Frequency

70HZ

70HZ

70HZ

Model

HONDA GX160

HONDA GX270

HONDA GX390

Fuel Type

Gasoline

Air cooling

Gasoline

Air cooling

Gasoline

Air cooling

Power

5.5hp/3600rpm

9.0hp/3600rpm

13.0hp/3600rpm

Fuel Tank Capacity

3.6L

6.0L

6.5L

Lubricating oil

0.6L

1.1L

1.1L

2 meters combination Dimensions

405mm*2000mm

405mm*2000mm

405mm*2000mm

1 meter combination Dimensions

405mm*1000mm

405mm*1000mm

405mm*1000mm

0.5 meter combination Dimensions

405mm*250mm

405mm*250mm

405mm*250mm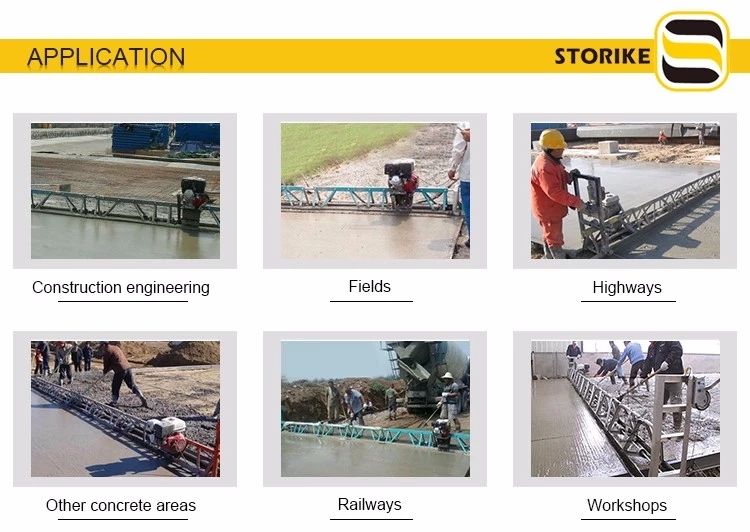 Our product is the principle of high-frequency vibration integration in the traditional way of leveling, suitable for highways, railways, bridges, workshops , Square and other concrete areas, to achieve the concrete plane to mention pulp, compaction, leveling.