Product Description
600kg weight of industrial roller compactor for sale
Applications:
For compaction of asphalt surface, compaction of gravel, sand and other projects.
The walk-behind vibratory rollers are small-size vibratory roller, applied to mending and maintaining various roads, expressway shoulder, roadside walk, parking area, sports ground and garden lawn. They are especially suited for compaction of narrow areas as pipeline channel and drainage trench etc.

Features:
1).Operating radius is small, can work in a small area;
2).HONDA Petrol engine or famous diesel engine,international brands,quality assurance,superior performance, easy start;
3)The transmission mechanism of famous hydraulic drive system,and infinitely variable Vibratory speed,reversing is convenient,service life long.
4)Deisel power with electric startup,light and flexible.
Shandong Storike Engineering Machinery Co., Ltd. is specialized in the sales and production of Road roller Plate Compactor,Tamping Rammer,Tower,Concrete Truss screed machine,Power Trowel,Crack Sealing Machine,Concrete Scarifier ,Cutter,Slotting Machine and Hydraulic Power Unit And Tools machine and other construction machine. Our products are widely used in municipal and highway pavement road roller maintenance, small area compacting and depressed trough and so on. Our equipment is favored by many construction companies and have a large market in China. More and more trading companies purchase equipment from our plants, so we decide to enter world market with more favorable price to shape our product brand and provide the best after-sale service. If you are interested in our machine, contact us!

Kindly reminder:
We can supply different brand engine option :
Gasoline type:Honda ,Briggs&Stratton,Robin ,Loncin....
Diesel type:Changchai ,Changfa,Kipor,Golden Flying Fish...
For our products more technique data or working video.Please contact immediately.
whatsapp:008613963746955
Model

SVH-14

SVH-30/30C

SVH-700/700C

SVH-50/50C/50CS

Weight (KG)

140

330

550

540/540/570

Packing size(mm)

1100*550*850

1050*850*1200

1200*920*1920

1600*850*1900

Power(kw)

4.1

4.1/3.1

9.7/4.4

6.7/4.4/5.7

Fuel capacity(L)

3.6

3.6/1.9

6.5/2.7

5.9/2.7/6.5

Fuel type

gasoline

gasoline/diesel

gasoline/diesel

gasoline/diesel/diesel

The vibration frequency(HZ)

70

70

70

70

Climbing ability

30%

30%

30%

30%

Speed(KM/h)

3.8

3.8

3.8

3.8

Linear static pressure(N/CM)

30

45

45

45

Type

walking single

drum roller

walking single

drum roller

walking single

drum roller

walk-behind

dual-drum roller

Steel wheel size(mm)

400×450

426×600

530×700

426×600*2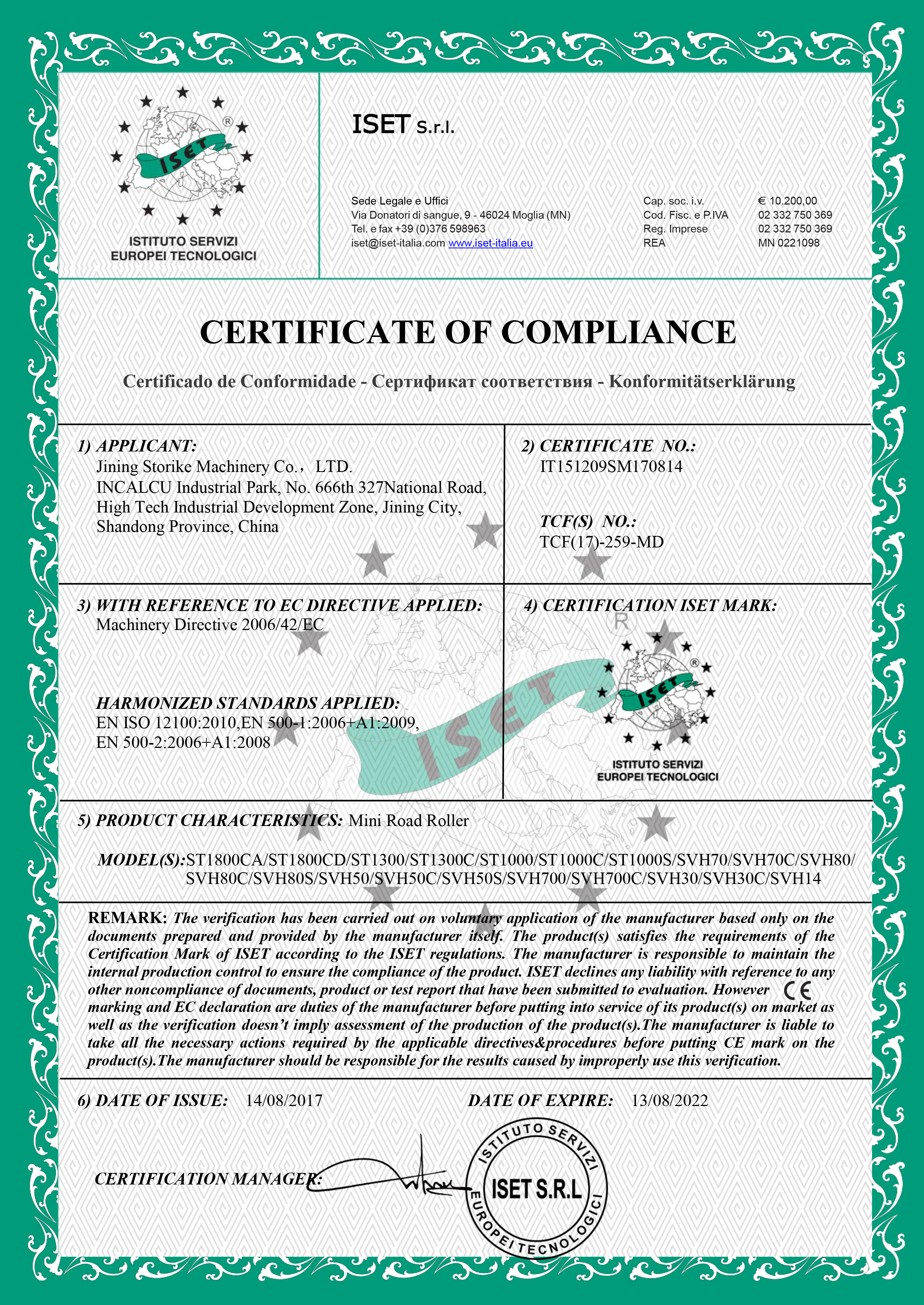 Kindly reminder:
Our CE is Real one not Fake.You can check the authenticity of the certification for road roller:www.iset-italia.eu
Validity :Aug.14,2017-Aug.13th,2022.
We are factory to supply 140kg--3500kg walking or driving type road roller .
For more infomation.please contact us to show you.