Product Description
Factory Mini Vibratory Soil Compactor Machine
Shandong Storike Engineering Machinery Co.,Ltd. is specialized in the sales and production of Road roller Plate Compactor,Tamping Rammer,Tower,Concrete Truss screed machine,Power Trowel,Crack Sealing Machine,Concrete Scarifier ,Cutter,Slotting Machine and Hydraulic Power Unit And Tools other construction machine. Our products are widely used in municipal and highway pavement road roller maintenance, small area compacting and depressed trough and so on. Our equipment is favored by many construction companies and have a large market in China. More and more trading companies purchase equipment from our plants, so we decide to enter world market with more favorable price to shape our product brand and provide the best after-sale service. If you are interested in our machine, contact us!
Introductions:

SVH70 vibrating Road Roller is one kind of small-size Road Roller, adopts famous Changfa diesel engine, the engine is optional, the power of diesel engine is 6HP, it adopts Danfoss BDU, adopts hydrostatic drive, single drum driving and vibrating, our Steel Wheel Vibratory Roller has electric start, luxurious seat and LED lamp, the Road Roller Compactor Capacity is mainly used for compact asphalt, broken stone, backfill and concrete etc. The packaging of the Roller is wooden case or according to customers' requirements.
Product Use:
Road roller is used for the maintenance of municipal and highway pacement,and also for the compaction operation of the groove foundation,the pipe ditch backfilling,the construction and square construction,and the roller compacting lawn and so on.
Features:

1.The machine is equipped with the brand power,brand-name quality assurance,superior performance,easy to start.
2.The machine is selected of international brand-name Hydraulic variable pump and quantitative motor,before and after working ,easy to operate .
3.It has Hydraulic steering,steering light and flexible.
4.It has completed control function,to fully control the machine running at any time.
5.It uses the Japanese-made Nsk(seiko)bearings ,to ensure the machine's performance.
6.It has streamlined body design,more beautiful and generous.
7.The machine's surface is treated by spray.
Model

SVH70

ST 1000

ST1300

ST1800

SVH70C

SVH70

ST 1000A

ST 1000

ST 1000B

ST 1000S

ST

1300

ST 1300 CB

ST 1800 CA

ST 1800 CD

Fuel type

Diesel

Gasoline

Gasoline

Diesel air cooling

Diesel air cooling

Diesel water cooling

Gasoline

Diesel

Water cooling diesel

Output Power(KW)

4.8

9.7

9.7

6

6

5.88

12

14

18.6

Fuel capacity(L)

3.5

6.5

6.5

15

5.5

10

30

30

30

Static line load(N/CM)

55

56/77

57/77

56/77

58/77

55/65

82/85

Vibration frequency(HZ)

70

70

70

70

65

65

65

Nominal amplitude(mm)

0.5

0.5

0.5

0.5

Exciting force(KN)

20

20

25

25

25

Water tank capacity(L)

18

65L

60L

60L

Walking speed(KM/h)

0-5

0-4

0-8

0-8

Theoretical climbing ability

30%

30%

30%

30%

Hydraulic tank capacity(L)

12

12

13

13

13

13

30

30

46

Drum size(mm)

Front530*700 Rear 425*500

500*700*2

560*900*2

560*900*2

Weight(KG)

780

900

920

900

920

1350

1370

1620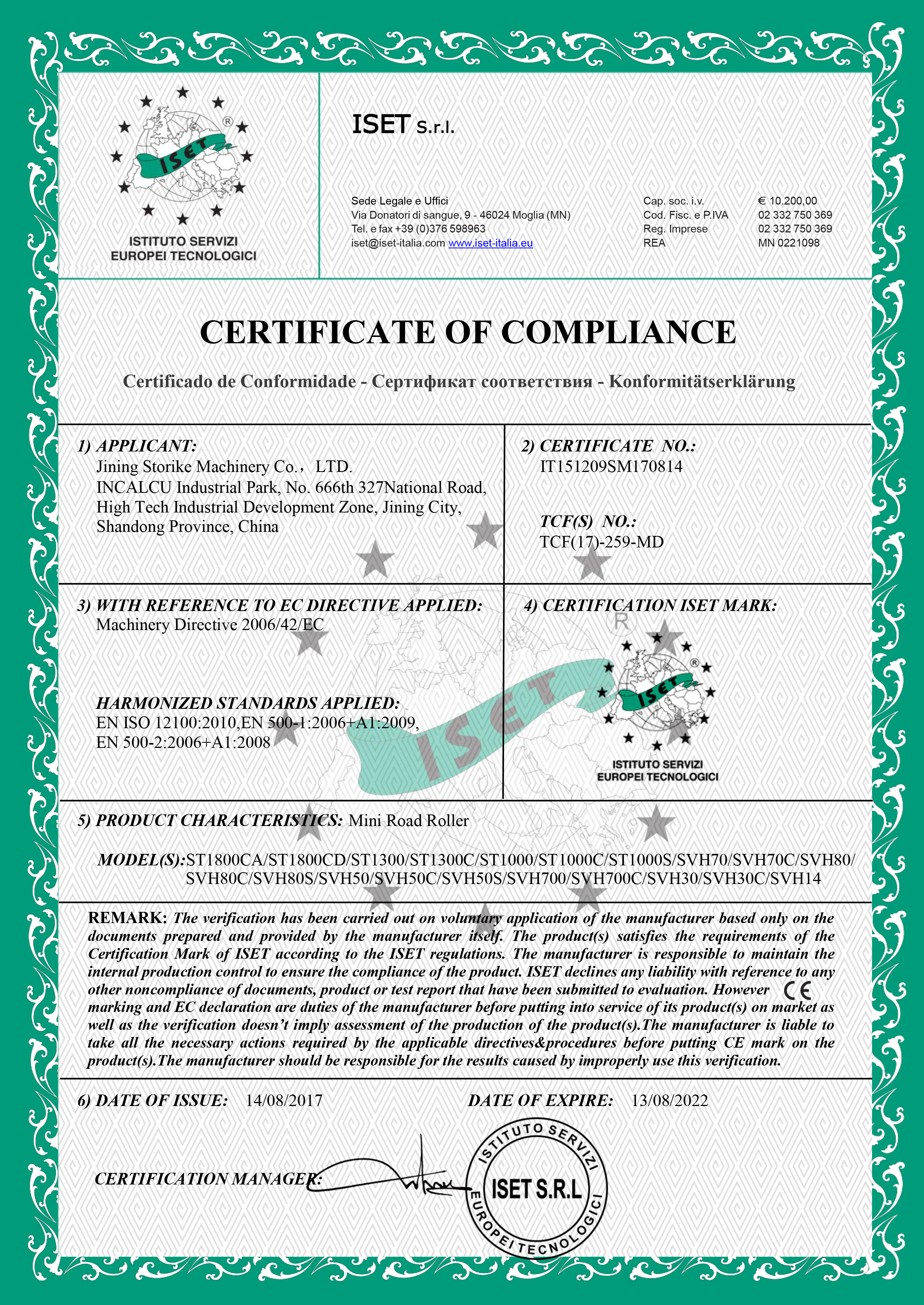 Kindly reminder:Our CE is Real one not Fake.
Validity :Aug.14,2017-Aug.13th,2022.
We are factory to supply 140kg--3500kg walking or driving type road roller .
For more infomation.please contact us to show you.