Product Description
High efficiency diesel roller compactor with EPA
Shandong Storike Engineering Machinery Co., Ltd was one of the top three road roller manufacturer in China, located in Jining city, Chinese construction machinery production base. STORIKE was established in 2003, covers an area of 6,000 square meters with ISO and CE. Our product was exported to more than 40 countries such as USA, Canada, Australia, UK, Italy and etc.If you are interested in our machine, contact us!
Our mainly products are Road Roller,Ride-on Road Roller,One-way Plate Compactor,Reversible Plate Compactor,Hand-push Light Tower,Trailer Light Tower,Concrete Truss Screed,Ride-on Power Trowel,Walk-behind Power Trowel,Hand-push Crack Sealing Machine,Engine Type Concrete Scarifier,Electrical Concrete Scarifier,Q420 Cutter,Gasoline Power Station,Tamping Rammer,Hydraulic Power Unit And Tools.
Features:
1. Fully Hydraulic Transmission: Hydraulic Steering and Hydraulic Turning and hydraulic vibrating.
2. Can adopts water-cooled/air-cooled diesel engine or Briggs&Stratton gasoline engine, have good heat dissipation.
3. 25KN Exciting force, good compaction effect. Soil compactor vibratory roller.
4. Had large capacity water tank, so that can guarantee continuou working.
5. Full closed hydraulic control system, ensure the walking and compaction accuracy, and it is convenient and safe to maintenance and use.
6. One side of the road roller installed protecting mask, so that it is very easy and convenient to operate in the corners and edges.
7. Operation radius is small, so that it can work in small area, suitable for groove backfill.
8. Use famous engine, good quality assurance, superior performance, easy to start.
9. CE certificate.
CE certification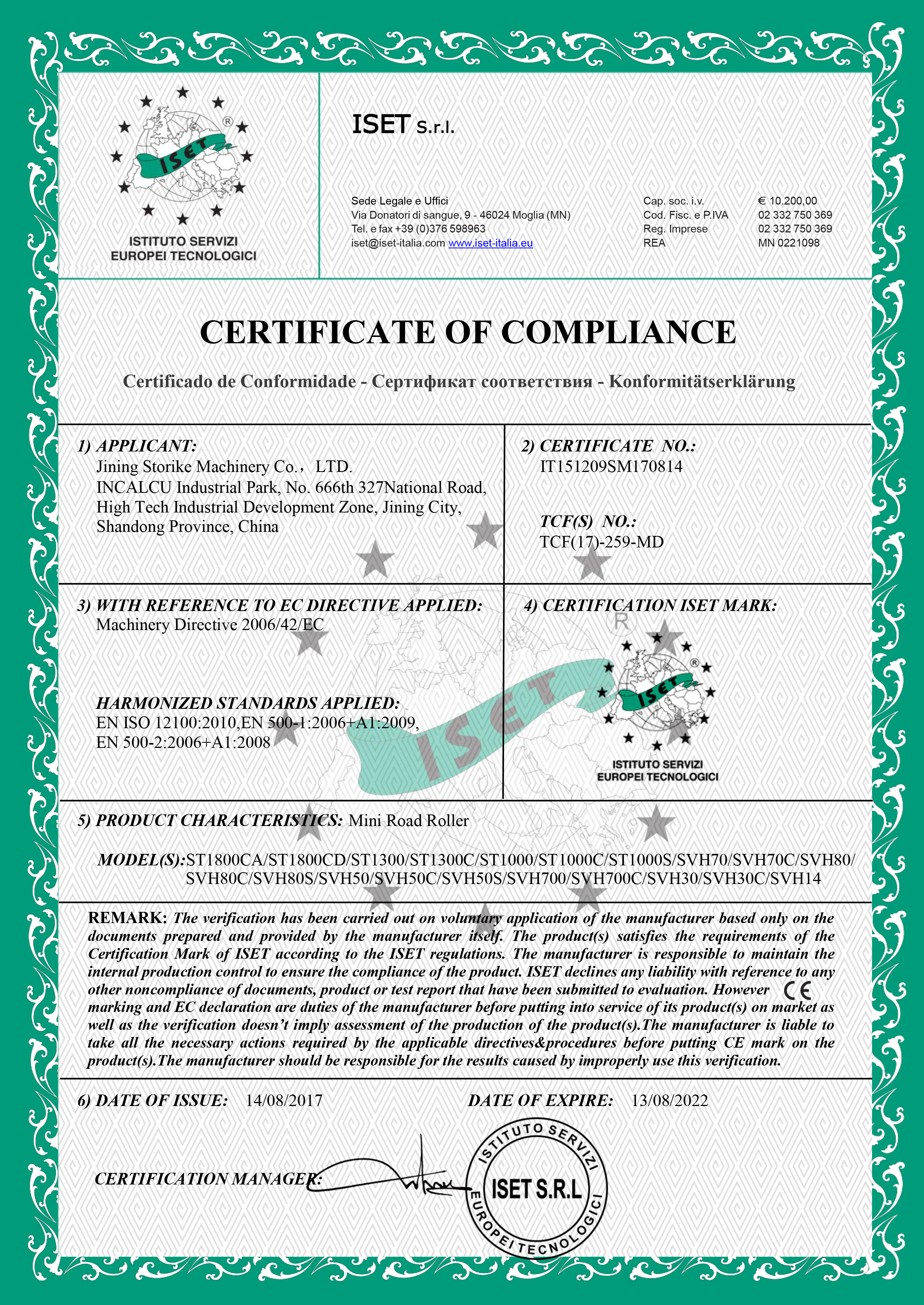 Specification:
Model

SVH70

ST1000

ST1200

ST1500

ST1800

ST3000

SVH70

SVH70C

ST1000

ST1000C

ST1000CS

ST1200

ST1500

ST1500C

ST1800

ST3000

Fuel type

Gasoline

Diesel

Gasoline

Diesel air cooled

Diesel water cooled

Gasoline

Gasoline

Diesel

Diesel water cooled

Diesel water cooled

Engine brand

Honda

Changchai

Changfa

Honda




Changchai

Changfa

Kipor

Golden flying fish

Changchai

Honda

Changchai

Yanmar

Changchai

Engine Model

GX390

180F

GX390

186F(E)

RD90N-1

192F

GX630

EV80

3TNV76

ZN385Q

Output power(KW)

9.7

4.8

9.7

6

5.88

8.1

12

12

18.6

21

Fuel capacity(L)

6.5

3.5

6.5

5.5

5.5

15

10

5.5

30

30

30

60

Driving

Chain drive

Hydraulic drive

Hydraulic drive

Hydraulic drive

Hydraulic drive

Hydraulic drive

Steering

Mechanical steering

Hydraulic steering

Hydraulic steering

Hydraulic steering

Hydraulic steering

Hydraulic steering

Vibrating

Electromagnetic cluth

Electromagnetic cluth

Hydraulic vibrating

Hydraulic vibrating

Hydraulic vibrating

Hydraulic vibrating

Drum size(mm)

Front:530*700

Rear: 425*500

500*700*2

500*800*2

560*900*2

560*900*2

780*1090*2

Weight(KG)

780

900

920

930

1180

1450

1470

1800

3000