Product Description
Mini Tandem Drum Vibratory Roller for Soil Compaction
Standard configurtion:
Variable displacement pump and fixed displacement motor
Tandem walking drive
Hydraulic articulated steering
Vibration switch on the instrument panel
Each wheel is equipped with the two blades
Gravity sprinkle system
Adjustable driver's seats
Plastic water tank
Control and warning indicators
Work chronographs
Mechchical transmission electromagnetic clutch
Anti-tilt protection
Application Range of Road roller

Road roller mainly used for road, compaction and leveling of sports ground, and could also used for the asphalt road. The walk behind type single drum road roller is compact in structure, volume is small, and convenient to change working site. The utility model can be used for compacting soil, asphalt roads, sidewalks, bridges and culverts, parking lots, sports sites and compaction work on narrow sites, vertical vibration, high exciting force, high compaction efficiency, it is an ideal facility for highways and municipal departments to build roads, streets and squares.
ST1000 is
1 ton mini vibratory roller compactor machine is suitable for compaction of asphalt, compaction of non-cohesive and cohesive soil and compaction of stabilized soils. It is used primarily for small-scale compaction work such as pavements, cycle paths, small roads and small parking areas places that need compaction but are difficult to reach with a large roller.
Features:
1.The machine is equipped with the brand power,brand-name quality assurance,superior performance,easy to start.
2.The machine is selected of international brand-name Hydraulic variable pump and quantitative mator,continuously variable,it can walk backward and forward.
3.It has Hydraulic steering,steering light and flexible.
4.It has completed control function,to fully control the machine running at any time.
5.It uses the Japanese-made Nsk(seiko)bearings ,to ensure the machine's performance.
6.It is installed of luxury seats,easy adjustment,comfortable work.
7.It has streamlined body design,more beautiful and generous.
8.The machine's surface is treated by spray.
9. The product has passed CE certification.
Shandong Storike Engineering Machinery Co., Ltd. is specialized in the sales and production of Road roller Plate Compactor,Tamping Rammer,Tower,Concrete Truss screed machine,Power Trowel,Crack Sealing Machine,Concrete Scarifier ,Cutter,Slotting Machine and Hydraulic Power Unit And Tools machine and other construction machine. Our products are widely used in municipal and highway pavement road roller maintenance, small area compacting and depressed trough and so on. Our equipment is favored by many construction companies and have a large market in China. More and more trading companies purchase equipment from our plants, so we decide to enter world market with more favorable price to shape our product brand and provide the best after-sale service. If you are interested in our machine, contact us!

Feedback from customer,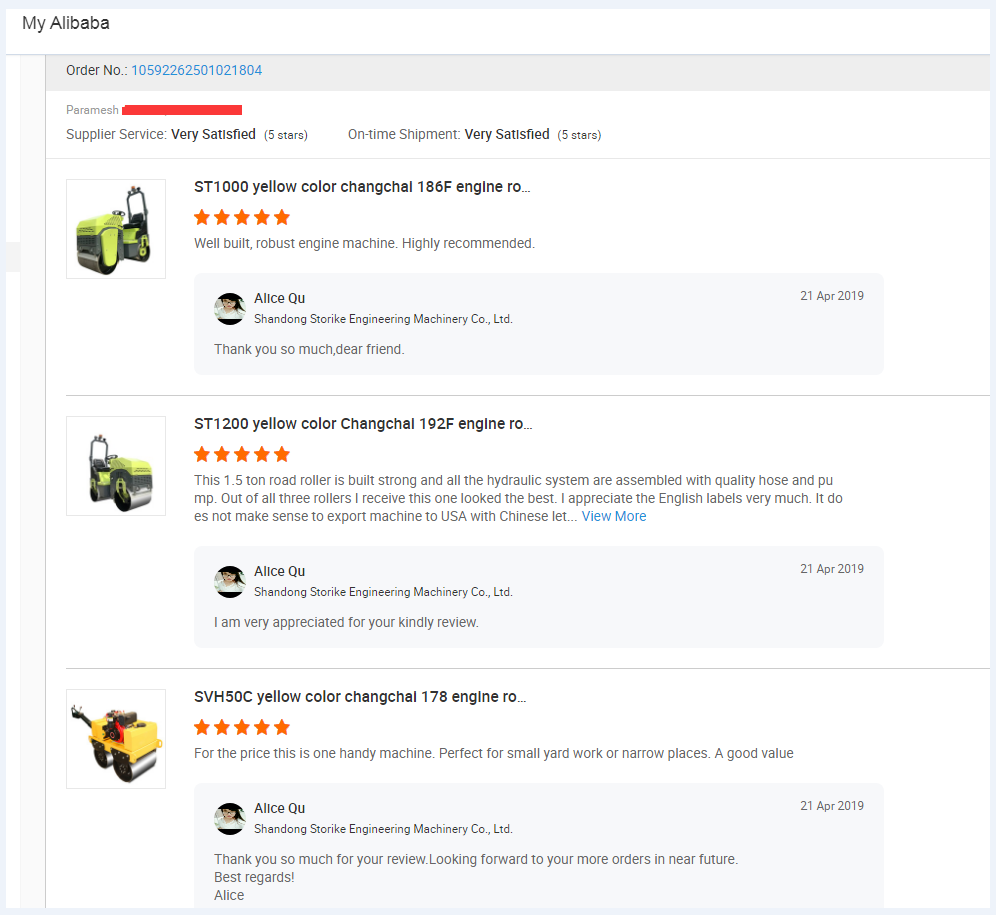 Model

SVH70

ST 1000

ST1300

ST1800

SVH70C

SVH70

ST 1000A

ST 1000

ST 1000B

ST 1000S

ST

1300

ST 1300 CB

ST 1800 CA

ST 1800 CD

Fuel type

Diesel

Gasoline

Gasoline

Diesel air cooling

Diesel air cooling

Diesel water cooling

Gasoline

Diesel

Water cooling diesel

Output Power(KW)

4.8

9.7

9.7

6

6

5.88

12

14

18.6

Fuel capacity(L)

3.5

6.5

6.5

15

5.5

10

30

30

30

Static line load(N/CM)

55

56/77

57/77

56/77

58/77

55/65

82/85

Vibration frequency(HZ)

70

70

70

70

65

65

65

Nominal amplitude(mm)

0.5

0.5

0.5

0.5

Exciting force(KN)

20

20

25

25

25

Water tank capacity(L)

18

65L

60L

60L

Walking speed(KM/h)

0-5

0-4

0-8

0-8

Theoretical climbing ability

30%

30%

30%

30%

Hydraulic tank capacity(L)

12

12

13

13

13

13

30

30

46

Drum size(mm)

Front530*700 Rear 425*500

500*700*2

560*900*2

560*900*2

Weight(KG)

780

900

920

900

920

1350

1370

1620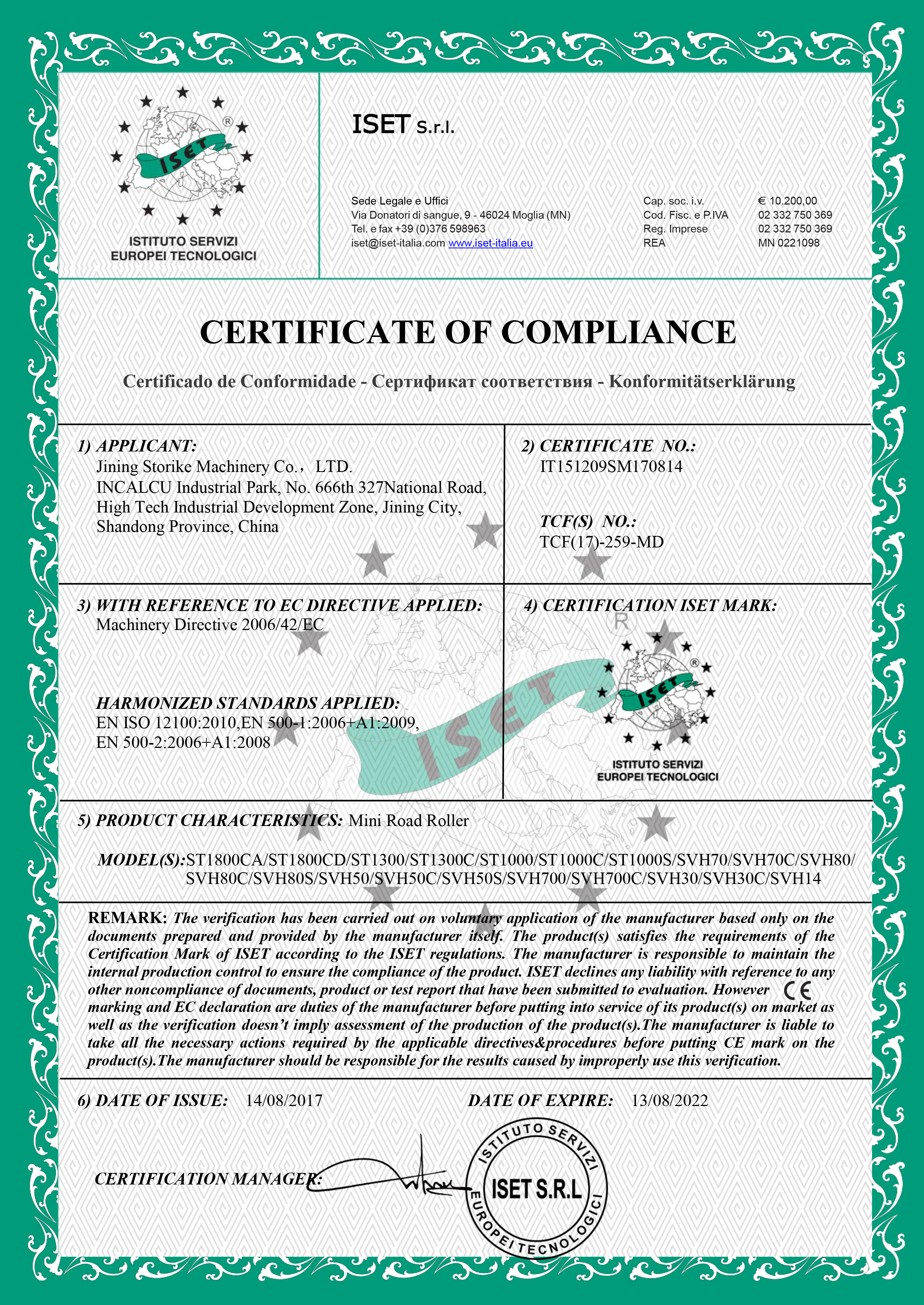 Kindly reminder:Our CE is Real one not Fake.
Validity :Aug.14,2017-Aug.13th,2022.
We are factory to supply 140kg--3500kg walking or driving type road roller .
For more infomation.please contact us to show you.