Product Description
small capacity vibration road roller
Feature ( our machine can choose honda gasoline engine or changfa diesel engine )
1). Operate radius small, can work in small area, suitable for groove backfill.
2).small capacity vibration road roller Use famous diesel engine honda gasoline engine or changfa diesel engine , water-cooled diesel, high nd quality assurance, superior performance, easy to start.
3). Adopt international famous brand SAUER hydraulic drive unit, and infinitely variable speed, walk forward and backward, reversing convenient.
4). Use electrical startup, machine vibration control use electromagnetic clutch, easier operation.
5). small capacity vibration road rollerAdopt international NSK bearing, MITSUBOSHI triangle belt, ensure the machine`s work performance.
6). small capacity vibration road roller Surface spray, beautiful appearance, rust resistant.
Advantage
1, Variable speed, compaction suitable for a variety of operating environment
2, Hydraulic power, double wheel drive, convenient operation, flexible
3, Fork type plate design, can be attached to a shortcut along the compaction, effectively improve the compaction efficiency
4, Single steel wheel vibration standard Changchai 4Hp CF170F engine power
Model

SVH-14

SVH-30/30C

SVH-700/700C

SVH-50/50C/50CS

Weight (KG)

140

330

550

540/540/570

Packing size(mm)

1100*550*850

1050*850*1200

1200*920*1920

1600*850*1900

Power(kw)

4.1

4.1/3.1

9.7/4.4

6.7/4.4/5.7

Fuel capacity(L)

3.6

3.6/1.9

6.5/2.7

5.9/2.7/6.5

Fuel type

gasoline

gasoline/diesel

gasoline/diesel

gasoline/diesel/diesel

The vibration frequency(HZ)

70

70

70

70

Climbing ability

30%

30%

30%

30%

Speed(KM/h)

3.8

3.8

3.8

3.8

Linear static pressure(N/CM)

30

45

45

45

Type

walking single

drum roller

walking single

drum roller

walking single

drum roller

walk-behind

dual-drum roller

Steel wheel size(mm)

400×450

426×600

530×700

426×600*2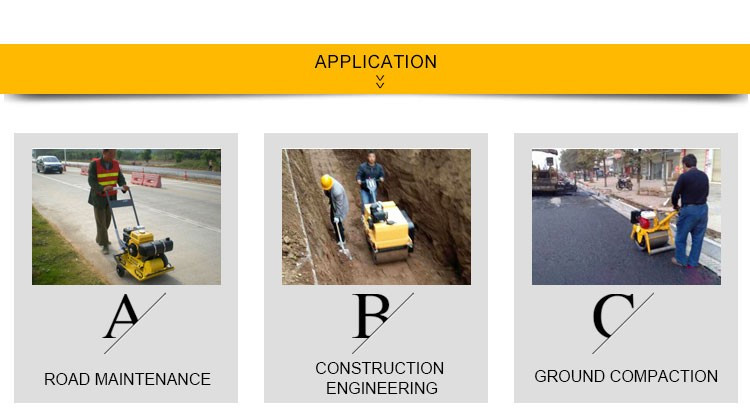 Our factory shandong storike engineering machinery co., ltd products with CE certification, factory with ISO SGS Ccertification, we sincerely invite you visit our factory. our factory is specialized in the sales and production of Road roller Plate Compactor,Tamping Rammer,Tower,Concrete Truss screed machine,Power Trowel,Crack Sealing Machine,Concrete Scarifier ,Cutter,Slotting Machine and Hydraulic Power Unit And Tools machine and other construction machine.