Product Description
Storike gasoline inflatable balloon mobile lighting tower
Storike Halogen Lamp Portable Mobile Telescopic Light tower has multi-function, with wide lighting scope, Mobile lighting tower is widely applied in various fields, like airport, docks, mining sites, stadiums, railway construction sites, emergency recovery sites.
Shandong Storike Engineering Machinery Co., Ltd. is specialized in the sales and production of Road roller Plate Compactor,Tamping Rammer,Tower,Concrete Truss screed machine,Power Trowel,Crack Sealing Machine,Concrete Scarifier ,Cutter,Slotting Machine and Hydraulic Power Unit And Tools machine and other construction machine. Our products are widely used in municipal and highway pavement road roller maintenance, small area compacting and depressed trough and so on. Our equipment is favored by many construction companies and have a large market in China. More and more trading companies purchase equipment from our plants, so we decide to enter world market with more favorable price to shape our product brand and provide the best after-sale service. If you are interested in our machine, contact us!

Specifications,
Model

Hand-push type

Trailer mounted type

SMLV-

400A

SMLV-

400B

SMLV-

1000A

SMLV-

1000B

SMLV-

1000QA

Storike 4TN4000

Storike 4VA4000

Engine model

HONDA GX160K1

HONDA GX240K1

HONDA GX270H1

HONDA GX390K1

HONDA GX270H1

D1105 (KUBOTA)

KOHLER KD440/KIPOR 186F/CHANGCHAI 186F

Height

adjustment way

Manual life

Continuous working time

12.1h

13h

11.9h

9h

11.9h

120h

25h

Wind resistance

<6

<8

<6

Fuel tank capacity

15L

25L

24L

25L

24L

170L

Power

400W*2

400W*4

1000W

*2

1000W

*4

1000W

*2

1000W*4

1000W*4

Luminous flux

72000

LM

144000

LM

220000

LM

440000

LM

220000LM

110000LM*4

110000LM*4

Weight

157KG

184KG

185KG

203KG

185KG

960KG

550KG

Size

Minimum height 1.7m

Maximum height4.8m

L4360*

W1430*H1450

L2180*

W1130*H2700
Kindly Reminder:
We are real factory of 10 years experience of mobile light tower .
We can supply different model generator:
Gasoline type:Honda,Loncin.....
Diesel type:Kubota,Changchai,Kipor,Chuanneng.....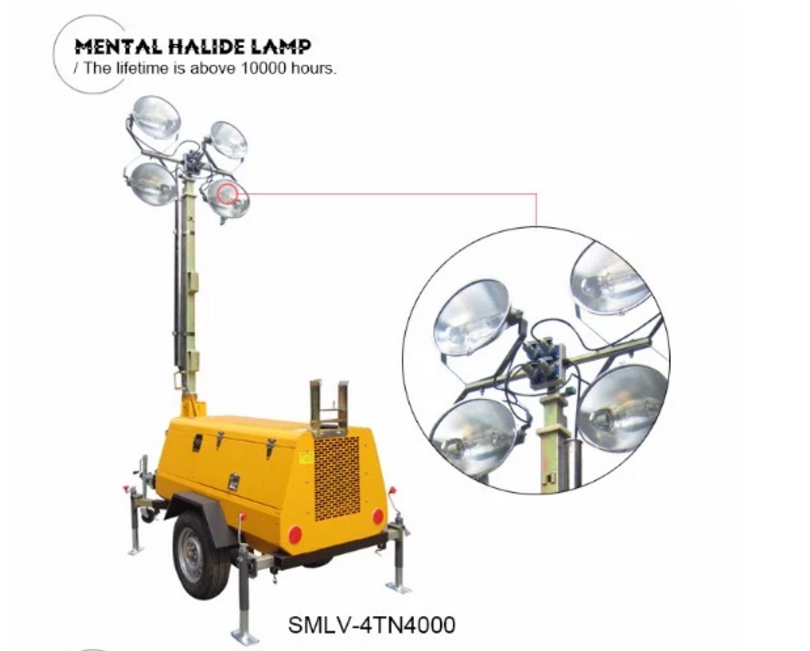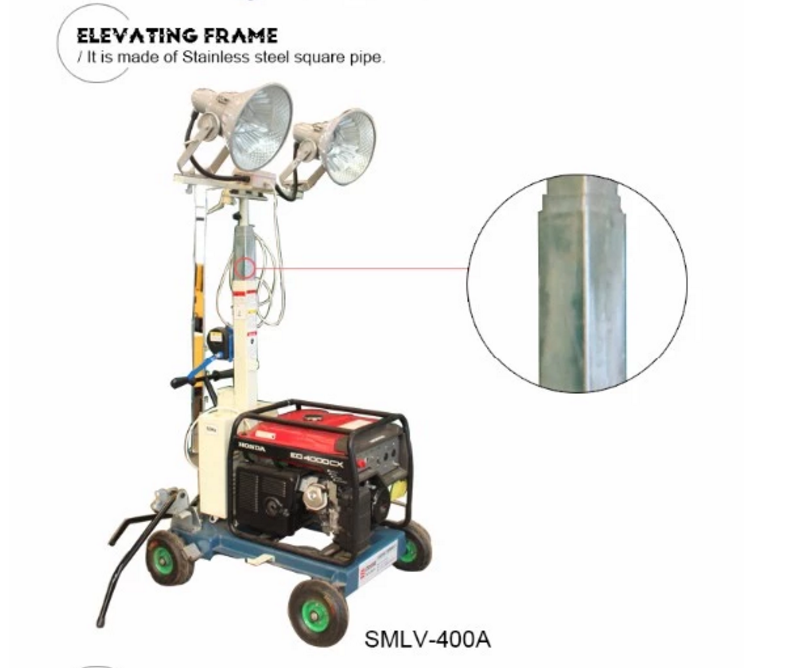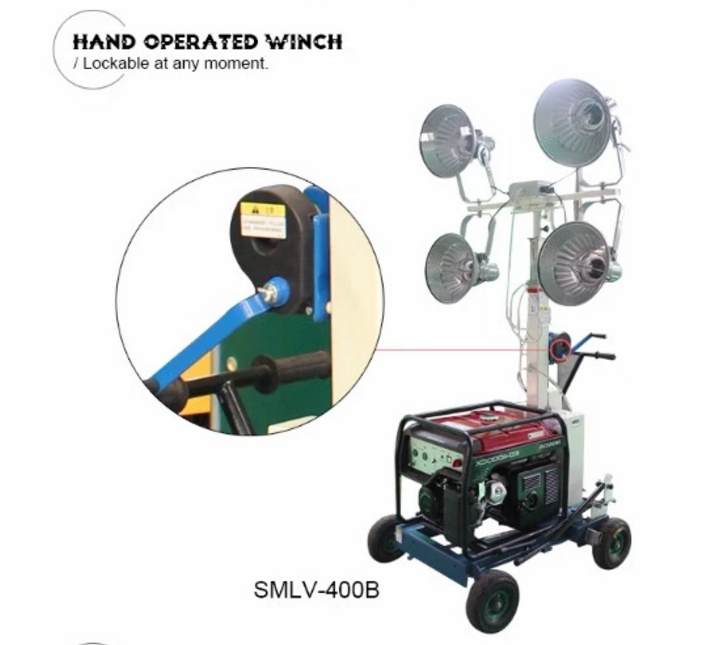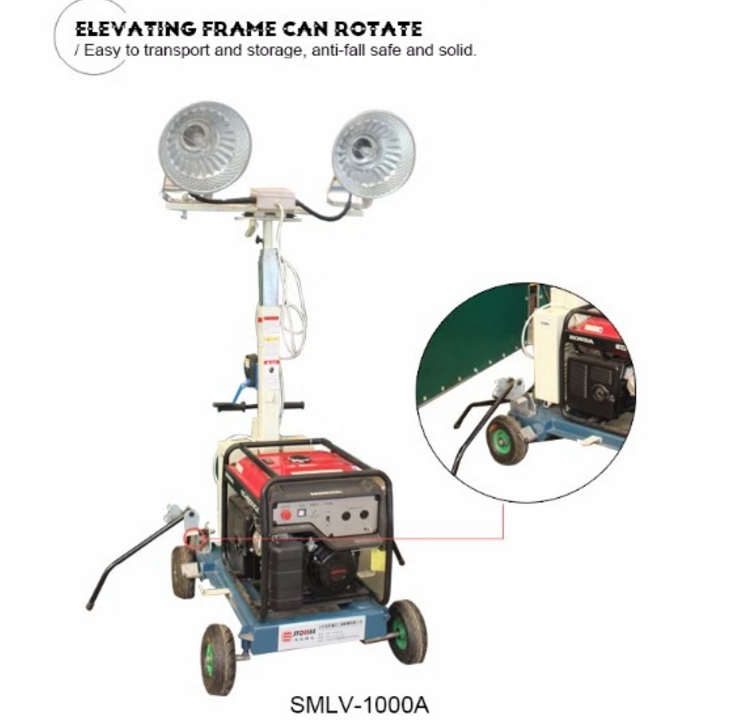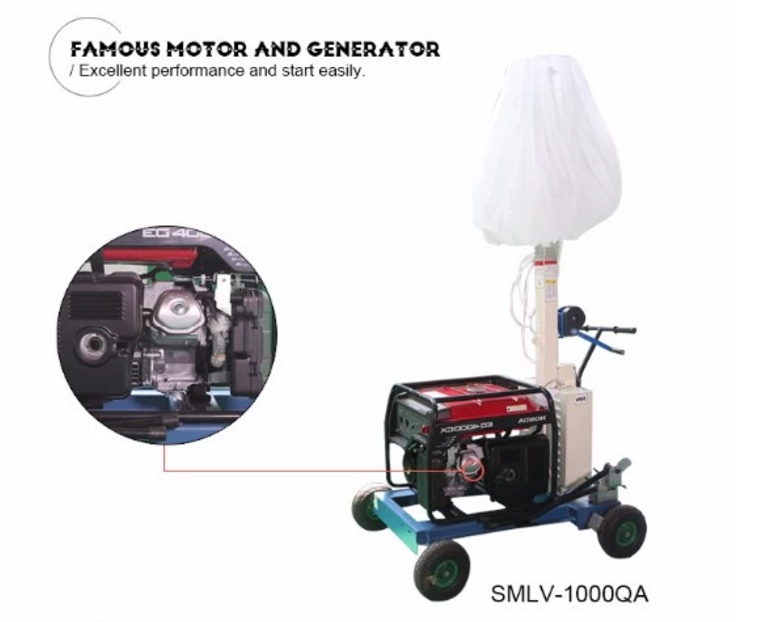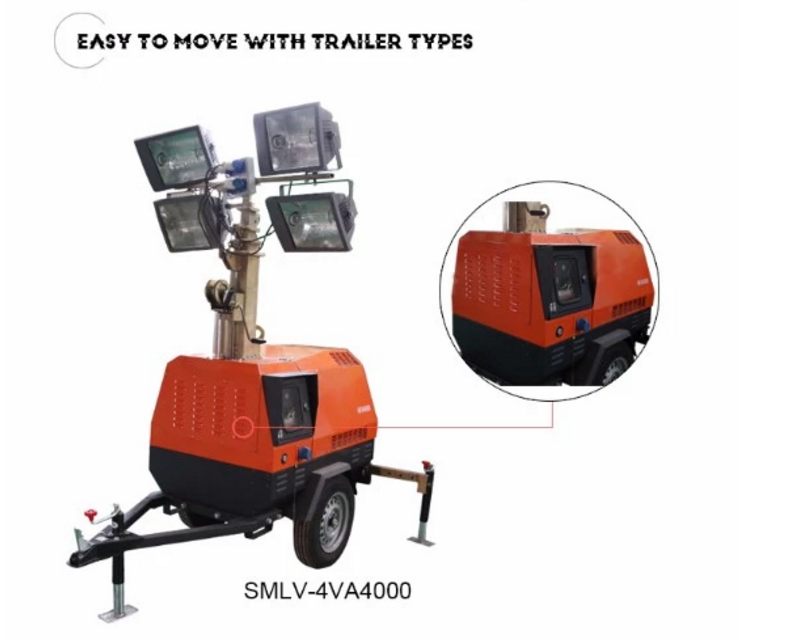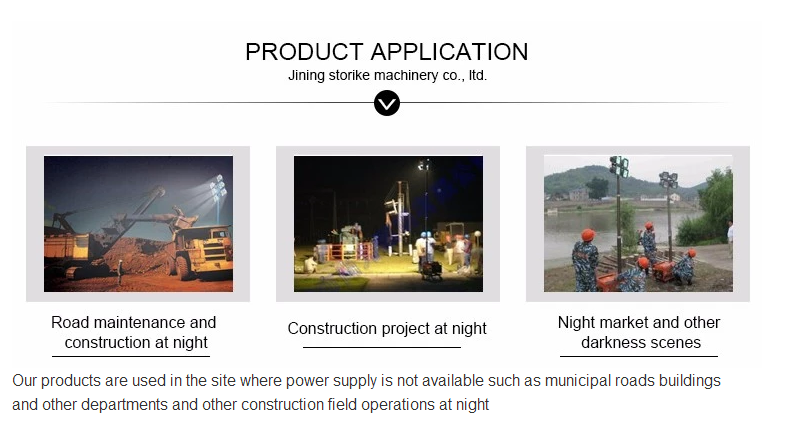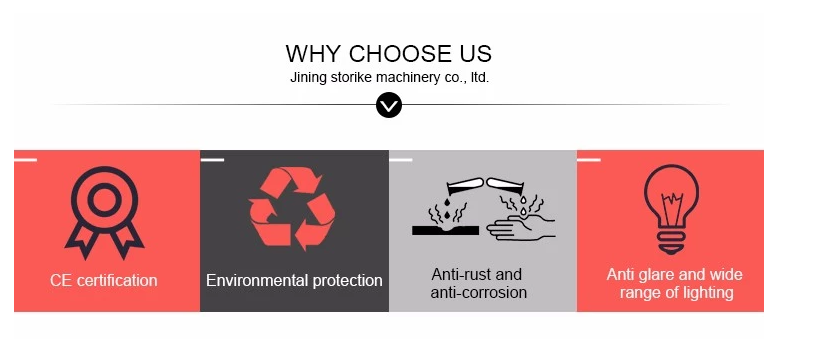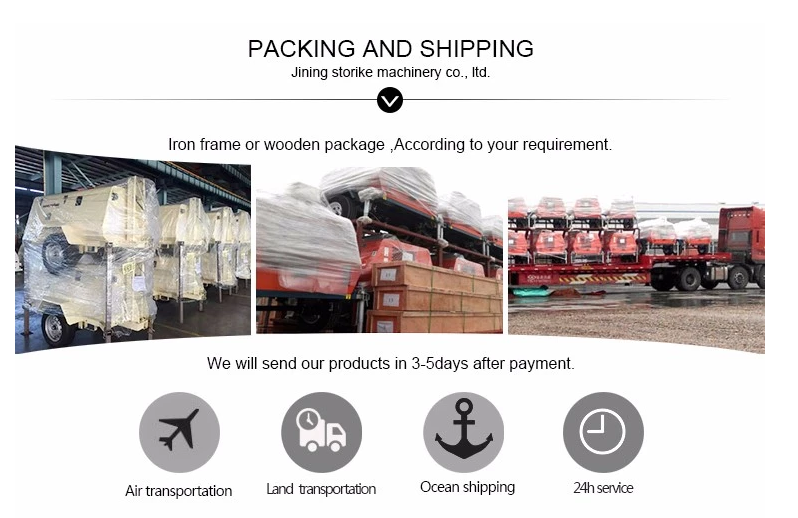 Q1:Do you have your own factory?
We have more than 13 years experience in this field and welcome to our factory for field trips.
Q2:Do you have enough experience in exporting business while you are just a factory?
We have professional foreign trading team and technical support, so we can deal exporting stuff fluently.
Q3:Could you guarantee the quality of your products?
We can promise our QC inspector have done careful scrutiny of each machine before shipping to clients .
Q4:Can I get one set free sample?
Free sample is not available before we have build up deep business relationship.
Q5:Could I get the lowest price as wholesaler?
Sure, Wholesaler will lessen our stock pressure and deserve to get the bottom price for getting considerable profits.
Q6:what is the payment ?
T/T,paypal,Western Uion,If you have any questions,please contact us!